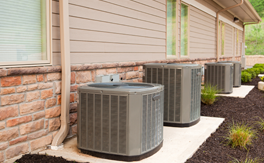 Your cooling system is a primary component of your home comfort, so you should be able to count on it for years to come. After all, what good is a central air conditioner that can't keep your home cool through summer's heat waves?

Haab Energy provides in-home consultations regarding your existing cooling system, as well as in-home estimates for the purchase of a newer, higher-efficiency system.

Take a look at our featured air conditioners, then call our office or contact us for a comfort system evaluation. We'll be happy to help you get the high-quality, high-efficiency cooling comfort you deserve.