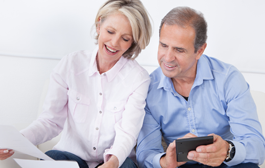 Haab Energy understands the specific needs of our customers, which is why we offer low-cost financing for the purchase of heating and cooling equipment. When you buy a new system, we can help you apply for a loan that meets your specific financial and budgeting needs, enabling you to upgrade to a high efficiency system immediately and pay for it over time.
We offer both central air conditioning and ductless mini-splits that are durable, reliable, and energy efficient. Upgrading your cooling system also provides short and long-term benefits including consistent temperatures, lower energy bills, reduced maintenance needs, and better overall comfort. With a budget-friendly finance plan from Haab Energy, you can enjoy all of these amazing benefits without having to empty your wallet.
We'll also do extensive research to find manufacturer and regional rebates and tax credits, when available. You may be able to afford more than you thought! The savings you achieve on energy in the first few years alone may offset the financing costs entirely. For more information on financing, please call our office or visit our contact us page.